RNR Robot Solutions are a UK robot company specialising in used industrial robots.  Affordable, high-quality, refurbished robots backed by our warranty and delivered to our global customer base.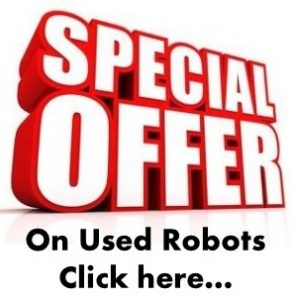 We take the time to fully understand the challenges our clients face during the production process and are committed to providing the right solutions for your company by enhancing productivity and helping you achieve your manufacturing goals. RNR Solutions provides cost effective used robotic process automation that ultimately strengthens our customer's ability to compete in the market they serve.
We offer you a fully engineered turnkey solution for: "Complete Welding Cell", "Material Handling", "Palletising", "Machine Tool Tending" to "Spray Painting Robots", "Printing" and much more.
Contact us today and discover how we can help your business work smarter, faster, safer, more efficiently and more productively than ever before.
.
Get 5% off your first order
Sign up for RNR news and receive 5% Off your first order!
Plus be the first to know about any select offers or discounts we are running.
Sign up to our FREE newsletter!