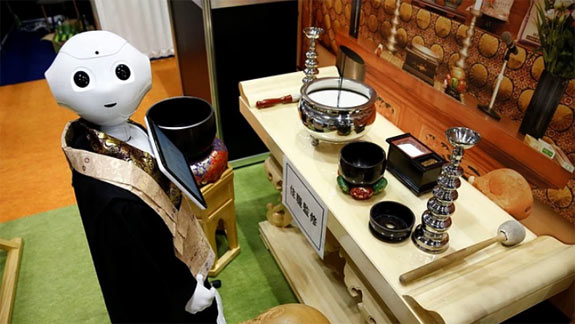 Robots in Japan can serve as a co-worker, carer for the elderly, fighting crime and even sexual companions, but now SoftBank's humanoid robot Pepper has put itself up for hire as a Buddhist priest for funerals of the future.
Taking the German 'Bless u-2 robot idea, Pepper, the priest, is programmed to chant sutras in a computerised voice while beating a drum. Pepper provides a cheaper alternative to a human priest to see loved ones off into the eternal sleep.
The robot was on display on Wednesday at a funeral industry fair, the Life-Ending Industry Expo, in Tokyo, shown off by plastic moulding maker Nissei Eco.
According to data from Japan's Consumer Association in 2008, the average cost of a funeral in Japan is more than £20,000, with human priests costing £1,700. Nissei Eco is looking to undercut the market with Pepper which is available at £350 per funeral.
As Japanese society represents the long­est-living people in the world, many Buddhist priests receive less financial support from their communities, and some find part-time work outside their temple duties, said Michio Inamura, Nissei's executive adviser.
Would-be funeral arrangers have the option to dress Pepper in the robe of a Buddhist monk and can also live-stream the ceremony to those who can't attend the funeral in person.
Buddhist priest Tetsugi Matsuo said he came to the expo to see if Pepper could "impart the 'heart' aspect to a machine because I believe that the 'heart' is the foundation of religion".
Pepper has not been hired to conduct a funeral yet, however with robots slowly edging into most facets of life it seems inevitable they will be involved in funerals of the future in one form or another.