The third-generation ABB Foundry Prime Industrial Robot (IRB 6790) is designed to withstand high-pressure waterjet cleaning applications and harsh industrial environments with 100% humidity. Different parts can be cleaned in the same cell with zero changeover time. The ABB Foundry Prime robot is IP69-rated for superior protection from water and dust and it reduces maintenance costs by up to 60%.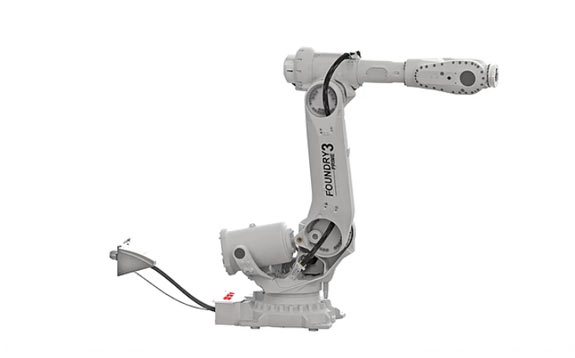 The ABB Foundry Prime industrial robot launched at Automatica 2018 in Munich. The robot is available in two variants, one with a 205-kg payload with 2.80-m reach, and one with a 235-kg payload and 2.65-m reach.
"ABB's heritage of installing robot systems in automotive factories around the world helps us to understand the challenges automakers face today, and how their factories might look tomorrow. This helps to write the future for automation in the harshest operating environments," said Vegard Nerseth, managing director of robotics for ABB.
The IRB 6790's high flexibility allows cleaning of different part geometries in the same cell with zero changeover time, which supports mass customisation for automotive manufacturers as well as original equipment manufacturers and their tier suppliers. In addition to increased flexibility and productivity, this solution provides increased speed and, on average, 5% faster cycle time. The robot's design is focused on reliability and system uptime in conjunction with optimised maintenance to enable easier serviceability.
The ABB Foundry Prime robot can work in an environment that is usually not suitable for industrial robots, with enhanced protection from heat, cleaning pressure, chemicals, and dirt typically found in harsh and wet environments. It also has IP69-rated protection to prevent water and dust ingress whereas the cleaning chemicals can range up to pH 10.
The first-generation ABB Foundry Prime industrial robot introduced in 2005 was painted orange, the second generation in 2007 was painted grey, while this third-generation model is unpainted yet thoroughly coated. The IRB 6790 Foundry Prime industrial robot which reduces maintenance costs is expected to be available for order in November 2018.