The National Farmers Union (NFU) recently launched a report called the 'Future of Food 2040'  which looked at trends and developments which are likely to impact on the way farming is conducted over the next 20 years.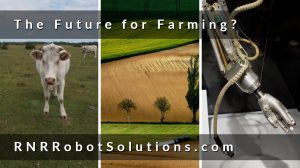 It comes as no surprise to us that the NFU are predicting a far wider role for robotic technologies leading to an increase in farming sector robotic expenditure from £3bn to £73bn in the 10 years from 2015.  We are already seeing robots used for some labour-intensive tasks, but the report anticipates that more complicated procedures such as fruit picking, milking, livestock feeding and even slaughter will be undertaken by robots within 20 years.  Mapping and sensing will be conducted by drones, or unmanned aerial vehicles (UAVs).
Andrea Graham, NFU head of policy services and author of the report, acknowledged technical advances to date: "There's some great technology out there", she commented, "The problem is that much of it is still just prototypes, and small scale.  The challenge is: can we scale up?"
Here at RNR Robot Solutions, we are already working with customers designing bespoke solutions that have an attractive ROI. We are finding an increasing willingness from farmers to accept robotic technologies, driven by the prospect of labour shortages and the need to improve productivity.  Our most recent application in the agriculture sector is with a hay and straw supplier, where the robot is mounted onto a trailer alongside the baling equipment to compress, wrap and then stack the bales onto a pallet in the field.
Liz Reid, MD of RNR Robot Solutions, said "This is just one example where robot technology can transform the process of farming and improve yields.  Robots do not tire and can continue to operate 24/7. Whilst harvesting and picking robots have been around for a while now, we are seeing wider use of automation in areas like planting, seeding, fertilization, plus very innovative tractor applications coming into use now. It is a global trend and we are learning from innovation across the world as we help the spread of robotics into farming."
This agricultural revolution may have only just started, and there is clearly a long way to go, but there is no doubt that robots will have a substantial role to play in our farming sector over the next 20 years and further into the future.  To discover how RNR Robot Solutions can help introduce automation into your agricultural business, contact Liz Reid here.