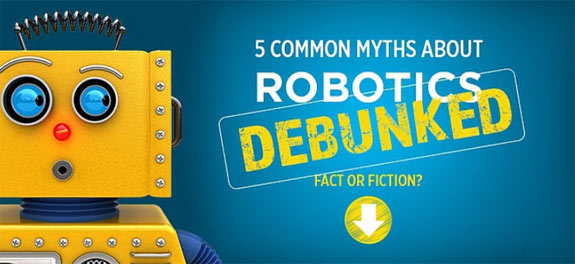 Industrial robots aren't new. The first went to work in 1961, and millions have been installed since. Given the advantages that flow from using robots to perform tasks as varied as welding, palletising and assembly – why aren't even more in use?  Here we look at the myths surrounding used industrial robots.
Many businesses think robots aren't appropriate for them. Some are under the impression they are only for high-volume manufacturers like auto companies. Others believe that robots can't do the type of work needed, or it's not appropriate to use a robot. Unfortunately, there are a lot of myths about robots, and it's time these were corrected.
MYTH 1 – USED ROBOTS ARE OUTDATED, SLOW AND LESS ACCURATE THAN NEWER MODELS
Industrial robots have changed very little over the past ten years. For the vast majority of industrial applications, the speed and accuracy of a used robot are very similar to a new model. A fully reconditioned robot has a life of 8-12 years, while a new robot typically lasts 10-15 years. When it comes to lifespan, there is very little difference between a new and an old robot
MYTH 2 – USED ROBOTS ARE MORE DIFFICULT TO PROGRAM
Programming has not changed dramatically during the last decade. Despite the introduction of new software and Windows interfacing, the tools and process remain the same. Programmers still use the teach pendant and robot to chart points and set up an application. Old and new robots are equally user-friendly and easy to program.
MYTH 3 – SPARE PARTS ARE HARD TO FIND FOR USED ROBOTS
Many used robotic parts have been on the market for more than 25 years so you can expect access to a wide selection of high-quality and affordable parts.
MYTH 4 – WARRANTIES ARE NOT AVAILABLE FOR USED ROBOTS
Yes, they are. At RNB Robot Solutions we offer a 90-day warranty on all our used industrial robots. Giving you the same coverage and reassure regardless as to whether you buy a new or used robot system.
AND THE BIGGEST MYTH OF ALL
Some say that robots eliminate jobs. Here's some hard data that will correct that misunderstanding. An independent study found that the robot industry generates approximately 170,000 to 190,000 jobs worldwide each year. They also estimate up to 2 million additional jobs will be created between 2017 and 2020.
Too many businesses mistakenly believe robots aren't for them and haven't even looked at how robots could improve their quality, productivity and safety. These companies are putting themselves at a competitive disadvantage when compared to others who don't believe the myths.
To discuss the best robotic solution for your business contact RNR Robot Solutions at 07930 335185, and check out more about our used industrial robots here.