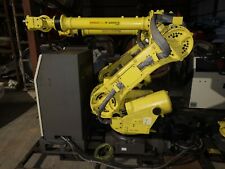 This Fanuc R2000iA 200EW with RJ3iB Controller used robot has been cleaned and tested – sold in working order
£5,000
Delivery – £500


Fanuc R2000iA 200EW with RJ3iB Controller  – call 07930 335185 for details
The multipurpose FANUC R-2000iA 200EW with RJ3iB controller is a floor mounted robot.  This used FANUC robot can perform spot welding and material handling applications.  As with most used FANUC robots, the R2000iA/125 is reliable and efficient making it an excellent choice, and comes with the FANUC RJ3iB controller.  In addition to the previously mentioned robotic applications, it can also be used for palletizing, dispensing, deburring, and assembly.
An additional warranty can be purchased for this robot, viewing our robots is always welcomed, please contact us to call or message us to arrange this.
Lead time is 1/2 weeks from the date of purchase.Delivery cost is an estimation and is to be determined after purchase, VAT is charged at the prevailing rate.