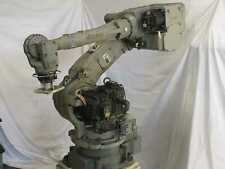 This Motoman UP50N used robot has been cleaned and tested – sold in working order
£4,000
Delivery: £500


The Motoman UP50N NX100 offers the ability to control up to four robots with one pendant.
It can be used to perform a number of tasks – dispensing, machine tending, and material handling applications.
The versatility of the UP50N, along with its speed and accuracy, will bring faster cycle times and increased productivity to your facility. By improving your cycle times, you will get orders finished in a shorter amount of time, which can give you the ability to handle more orders and grow your business.
Technical data here
.