Automated and robotic MAG, TIG, Spot, laser and plasma welding are common processes in the manufacturing industry, with many welding robotics applications across different sectors.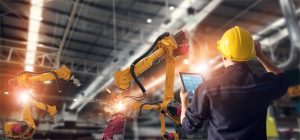 Robots are particularly well suited to welding applications: they can withstand high temperatures and provide constant, consistent, high quality welds with excellent repeatability especially where you may have a requirement for critical welding applications.  The result is improved end-product dependability and reliability, in addition to enhanced product end-user satisfaction.
Robots can be dressed out to perform a multitude of welding applications including MAG, TIG, Spot, Laser, Plasma cutting and many more applications.  Contact us for more details on how we can improve your manufacturing productivity with robotic welding solutions.
Check out our Special Offer page here for fabulous prices on used robots – the cost effective way to increase your automation.